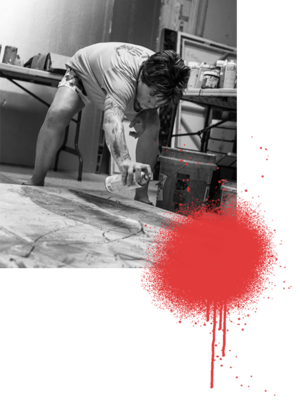 stepping into a space of pure curiosity and openness. Imagine what comes through is highly vibrational and that interaction gets anchored into a piece of art that communicates so coherently it raises not only the energy in the room but it raises your vibration as well..that's what I create.
This new body of work is exactly that.
It anchors an intention of deep connection.
The place of no boundaries, no hesitation and no self judgement...the space of no constriction...
the space of freedom..
When I paint, I enter that space easily now....naturally...the expression does not involve process...
It is only the raw and honest expression that matters and it is all that calls us to be whole...
this even transcends the idea of intuitive painting...
No one is really talking about art in this way....
Not really...
because it's experiential and cannot be talked about without an interactive dialogue.
I've been deep diving and experimenting with this intentional high vibrational way of creating...so high that...at times I'm in the flow, aligned zone for hours…translating unknown languages, symbols, color and information onto the canvas.
The paintings are not just paintings anymore...
and I'm realizing they never really were...

When I'm in that place... whoever is in the room
has the same experience of connection…
Short version….
the art is a conduit for expansion
in addition to being visually dynamic.
Art has always been a beautiful communicator…